David Perchard – Vice President of GlobalPSC Managing Director of Perchards Ltd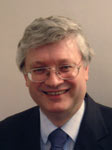 David Perchard is Managing Director of Perchards Limited, a UK-based consultancy that was founded in 1987 as a specialist public affairs consultancy to monitor and assess legislative developments at national and EU level as well as to help private-sector clients adopt politically and environmentally aware corporate policies. Perchards are expert both in EU and in national policies across Europe and beyond, and their web-based information service is used by subscribers from all over the world.
David has been involved with packaging waste management policy ever since the European Commission started taking an interest in the environmental impact of packaging in 1974, and his consultancy has expanded its interest in recycling and waste management to cover waste electrical and electronic products, spent batteries and end-of-life vehicles as the EU has developed "producer responsibility" policies for these sectors.
The company has carried out studies for the European Commission, the International Finance Corporation (part of the World Bank group) and governmental bodies in Australia, the Czech Republic, Ireland, the Slovak Republic and the UK, and has been engaged by nearly 300 companies or organisations based in 34 countries in every continent.