GlobalPSC Member Profile – MobileMuster
Posted by GlobalPSC on Member Profiles at 6:32 pm, June 6th, 2012Comments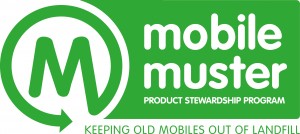 MobileMuster has been a Corporate Member of the GlobalPSC from our start and a strong sponsor of GlobalPSC events.
MobileMuster is the Australian mobile phone industry's official, not-for-profit, product stewardship program. It was established voluntarily by the mobile phone industry to minimise the impact of mobile phones and their accessories on the environment at the end of their useful life. This free recycling service aims to:
keep old mobile phones, batteries and accessories out of landfill,
recycle them to the highest environmental standards, and
maximize the percentage of materials recovered so they can be reused therefore substituting new raw materials.
No mobiles or accessories are sold for reuse.
Since the mobile telecommunications industry introduced its recycling service in 1999 through the Australian Mobile Telecommunications Association (AMTA), MobileMuster has collected 886 tonnes of mobile waste including over 6.34 million mobile phones and batteries which have been kept out of landfill.
MobileMuster was a sponsor of the GlobalPSC's inaugural International Product Stewardship Summit and the GlobalPSC's Product Stewardship Implementation Workshop.
Tags:
Australian Mobile Telecommunications Association
,
Corporate Member
,
electronics
,
International Product Stewardship Summit
,
mobile phones
,
MobileMuster
,
product stewardship
,
Product Stewardship Implementation Workshop
,
Rose Read
,
sponsor
,
voluntary