GlobalPSC News – October 2018
Posted by GlobalPSC on Email at 3:07 pm, October 31st, 2018Comments
California Adopts First US State Sharps EPR Program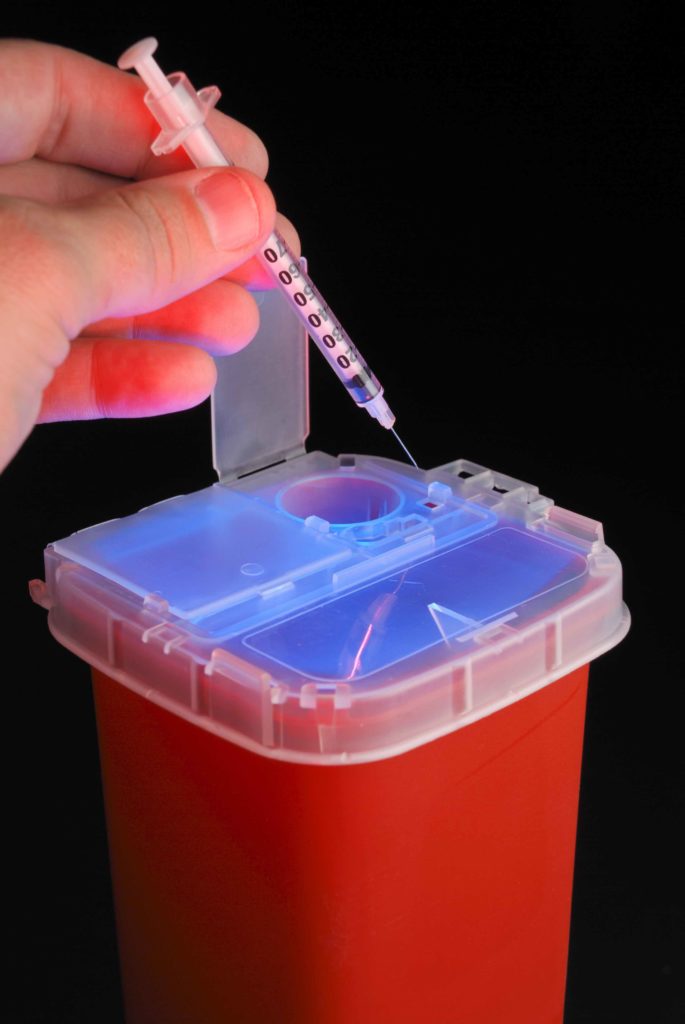 California Governor Jerry Brown signed SB 212 on 30 September, creating the first comprehensive, producer-funded take-back program for both home-generated sharps and unwanted medicines in the US.
California now becomes the first US state to require extended producer responsibility (EPR) for sharps. France is the only country with national EPR for sharps.  
The California program requires producers or distributors to adopt and implement a stewardship program for covered drugs or sharps, as applicable, or to join a collective organisation to discharge those responsibilities. Key provisions require a proposed stewardship plan, initial stewardship program budget, annual budget, annual report, and other specified information. The state government, via CalRecycle, is to have regulations in place effective no later than 1 January 2021.
California joins New York as US states with mandated EPR laws for unwanted medicines (referred to as 'covered drugs' in AB 212) set to take effect. New York's program became law in July 2018, with implementation to be effective mid-2019.
Takeback programs, either voluntary or regulated, for unwanted medicines exist in a range of states and countries globally.
Child Car Safety Seat Recycling Trial
It is always refreshing to see new product categories added to the list of stewardship initiatives being developed in Australia. Importantly, it is a sign that more manufacturers, retailers and service providers can see the broader environmental and social benefits of managing product-related impacts.
Consumer appetite for stewardship schemes that meet a clear need and are also equitable in their coverage nationwide, is strong and ever-increasing, but not always uncomplicated and adequately funded. Some are mature and meet community expectations, while others are nascent and in development.
A new product category being investigated for stewardship action in Australia is the child car safety seat. Not always associated with take-back and recycling programs, the majority of these seats go straight to landfill at end-of-life despite being highly recyclable. Over 90% of a typical child car safety seat contains materials that can be recovered and reprocessed when correctly dismantled. The category includes rear facing infant carriers and bases, forward facing seats and booster seats.
Roughly 1-1.4 million child car safety seats reach their end of life every year in Australia, with most sent to landfill. Despite at least 90 per cent of materials contained in a child car safety seat being recyclable, there are currently limited opportunities to recycle them in Australia.
During 2017, sustainability consultants Equilibrium developed and implemented child safety seat recycling trials in Victoria, New South Wales and Queensland. Several key stakeholders participated in the trial, which included close cooperation with seat manufacturers, automotive associations, local councils, recyclers and community groups.
The trial successfully explored collection issues and tested the feasibility of a product stewardship model to improve car seat recycling. Over 10 tonnes of seats were processed during the trial, with a recovery rate of 82 per cent.
Enthusiastic collaboration between stakeholders has been a key feature of how the trial has been designed and implemented. A strong partnership approach has also helped to maximise community engagement and raise broader awareness about the potential for a permanent program.
The trial program received funding and support from the Queensland and NSW governments (Waste Less Recycle More Initiative – NSW), Victorian Metropolitan Waste and Resource Recovery Group as well as major car seat brands including Dorel and InfaSecure, and automotive association representatives from RACV, NRMA, RAA and RACT. Kidsafe and various social enterprises have also been involved in the trial's promotion and delivery.
For more information about the trial you can view this short video.
GlobalPSC members can download a detailed case study sheet with practical considerations from the Knowledge Base.
Text and materials provided by Equilibrium.
New GlobalPSC Member – Tyre Stewardship Australia

Tyre Stewardship Australia is an ACCC-approved industry cooperative scheme, established with State and Federal Government support, focussed on increasing the sustainable management of the over 56 million end-of-life tyres that Australia generates each year.
TSA are delivering an accreditation scheme, targeted education and market development funding. The TSA Market Development Fund has committed several million dollars, with the aim to increase the utilisation of tyre-derived product through the creation of new end-use products and markets. It has also recently introduced a demonstration and infrastructure funding stream to fund real-world demonstration of research validated projects that aim to verify the commercial viability of new tyre-derived products and consume substantial quantities of tyres.
TSA also provides access to accredited sources for new tyres and end destinations for a problematic waste stream. Since its 2013 inception, TSA has established an accreditation and reporting scheme that has over 1,500 accredited tyre stores covering many retail groups, and accredited recyclers who handle more than 80% of the available end-of-life-tyres (EOLTs) managed in Australia, providing sound destinations for end of life tyres collected.
In support of that scheme, a comprehensive public education program has generated over 1 million unique visits to the www.greentyreproject.com.au website and many thousands of searches for accredited tyre retailers.
Join the TSA free as a participant and continue the drive for a circular economy.
Apply online at tyrestewardship.org.au or contact TSA via email by info@tyrestewardship.org.au.
GlobalPSC Member Profile – Equilibrium
Equilibrium understands the commercial and environmental drivers when it comes to product stewardship and its potential contribution to environmental and economic improvement. Equilibrium provides end-to-end stewardship services, from tailored programs and engagement strategies through to auditing methods and communications advice.
The Equilibrium team covers the full range of capabilities necessary to design, develop, implement and evaluate successful stewardship solutions, schemes and programs. Whether it is a regulated scheme, a voluntary industry program, or an individual business service to customers, Equilibrium has the skills, networks and systems to assist manufacturers, importers, retailers, associations and not-for-profits to develop and execute high performance outcomes.
Some of the stewardship projects undertaken by Equilibrium cover paint, tyres, electronics, packaging, lighting, safety equipment and mattresses. Reviews of government policies and regulation have also been conducted.
In addition to strong stewardship capabilities, Equilibrium provides sustainability solutions that cut costs, align organisational goals and enhance reputation. From environmental management systems to technical assessments to strategic advice, the company's expertise covers several key sectors of the economy including food manufacturing, stadiums and events, government, waste management, recycling, agriculture, telecommunications, packaging and facilities management.
Visit the Equilibrium website to find out more.