National Voluntary Paint Stewardship Scheme Launched in Australia
Posted by GlobalPSC on Paint at 3:04 pm, May 1st, 2016Comments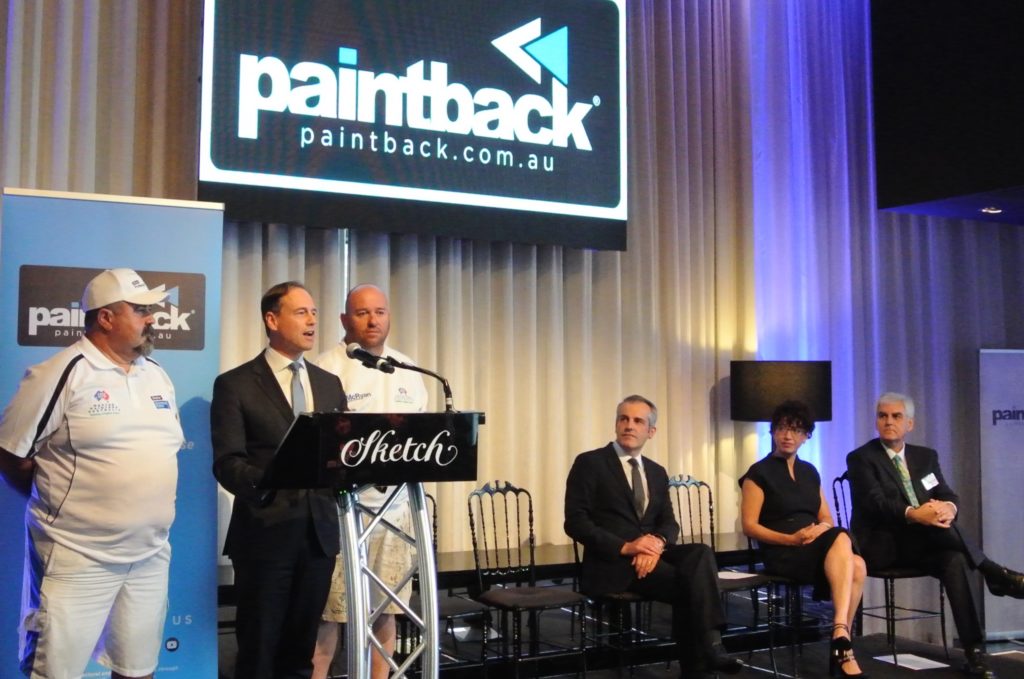 [L-R: Master Painter Stephen Papdan; Federal Environment Minister the Hon Greg Hunt MP; Master Painter Damien McRyan; Sustainability Victoria CEO Stan Krpan; Paintback Chief Executive Karen Gomez; Paintback Independent Chairperson Jim Liaskos]
Australia has just launched what is believed to be the world's first, all-encompassing national voluntary stewardship scheme for waste paint* and paint packaging, Paintback. The program, founded by paint producers DuluxGroup, Haymes, PPG, Resene and Valspar, was launched 29 April in Melbourne by the Hon Greg Hunt MP, Australia's Minister for the Environment.
The program will be funded through a levy of 15 cents per litre (plus GST) on new architectural and decorative paint in Australia.  The levy was approved by the Australian Competition and Consumer Commission (ACCC) to fund the collection and treatment of waste paint nationally, education campaigns and research for new uses of waste paint by Paintback Ltd, a not-for-profit organisation dedicated to the end-of-life management of waste paint and packaging.
Paintback will build upon a range of collaborative efforts between industry and governments. Australia's Environment Ministers agreed to place paint stewardship on their work plan in April 2013 and the Environment Minister nominated paint as a priority product under the Product Stewardship Act 2011 in June 2013. The multi-stakeholder National Waste Paint Implementation Working Group completed the scheme's business plan, economic model, 5-year rollout strategy and engagement plan and voted unanimously to support an application to the ACCC for approval of the levy.
The GlobalPSC helped facilitate development of the scheme. In conjunction with Sustainability Victoria and the Australian Paint Manufacturers' Federation, the GlobalPSC facilitated initial stakeholder discussions, featured paint and batteries in a priority product stewardship workshop and developed the public policy and business case for a voluntary paint stewardship approach in Australia. Further details and primary documents are available under the Paint category on the Knowledge Base available to GlobalPSC members.
* New Zealand accredited a voluntary paint collection program called Paintwise funded through a voluntary levy on Resene paint sold and from separate fees on non-Resene branded paint and trade waste paint.
Tags:
#productstewardship
,
ACCC
,
Asia Pacific
,
Australia
,
Australian Competition and Consumer Commission
,
business case
,
Damien McRyan
,
DuluxGroup
,
facilitation
,
Global Product Stewardship Council
,
GlobalPSC
,
Greg Hunt
,
Greg Hunt MP
,
Haymes
,
Hon Greg Hunt
,
Hon. Greg Hunt MP
,
Jim Liaskos
,
Karen Gomez
,
levy
,
Master Painter
,
Master Painters Association
,
multi-stakeholder
,
paint
,
Paintback
,
PPG
,
product stewardship
,
public policy case
,
Resene
,
Stan Krpan
,
Stephen Papdan
,
Sustainability Victoria
,
SV
,
Valspar
,
voluntary