GlobalPSC News – April 2022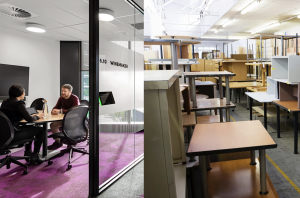 Fit for Office (F4O), the national stewardship approach to address and divert commercial furniture from landfill that GlobalPSC, Edge Environment and Good Environmental Choice Australia are developing for Australia, is entering a critical development phase.
The consortium has been coordinating with industry stakeholders to complete a Material Stocks and Flows Analysis through an online survey and direct consultations. This analysis will provide a foundation for economic and environmental analysis, business case development and scheme design, so stakeholder engagement and cooperation is crucial.
The consortium is also inviting stakeholders to an in-person symposium 2 June 2022 held through the Sydney Build Expo at the International Convention Centre Sydney. The event provides an additional opportunity to collaborate and co-design elements of the F4O product stewardship scheme.
F4O development began in mid-2021. Supported by the building industry, commercial furniture manufacturers and importers and underpinned by a grant from the National Product Stewardship Investment Fund managed by the Australian Government, the project consortium is researching and designing options for a stewardship scheme that supports landfill diversion, reuse and repair, design considerations, enhanced recycling methodologies and improved social outcomes to drive responsible management of commercial furniture in Australia.
The Independent Chair of F4O's Working Group, Blake Lindley, stated "this project is crucially important to the green building agenda. Over a commercial building's lifetime, waste (tonnes) from refurbishment is double the amount of daily operational waste and recycling generated, and the embodied energy of new and replaced furniture exceeds total operational energy consumed by the building. More imaginatively managing commercial furniture and fitout for a low carbon future must be an immediate priority for building owners, architects, tenants and suppliers alike. Working with Australia's leading furniture suppliers, F4O is on track to deliver a stewardship model that creates new industry, innovation and circular economy that will be cornerstone to our low carbon buildings of the future."
Announcing the project funding in mid-2021, Assistant Minister for Waste Reduction and Environmental Management the Hon Trevor Evans MP said, "The Australian Government have recently provided more than $370,000 to Edge Environment and its partners to develop, in consultation with industry, a commercial furniture product stewardship scheme. When it comes to commercial furniture, we're talking about a large amount of both textile and plastic waste across the lifecycle of these products from storage and delivery through to the actual components in the furniture. We're excited to get behind this new scheme which focuses on waste streams that are priorities for our government." 
The project consortium will be providing regular updates to all interested stakeholders over the term of the project. Keep up to date on the development of the commercial furniture stewardship scheme and other stewardship initiatives by contacting the GlobalPSC.
Share