A Challenging But Productive 2020
While we've faced the same challenges that so many others have faced in 2020, the GlobalPSC has also had an especially productive year.
Driving Reform
Our earlier organisational reforms continued to be implemented in 2020. These were the most significant reforms in our 10-year history and have put us in a much stronger position for moving forward. The new Executive Committee that we brought in end-2019 was re-elected by our members during the Annual General Meeting end-2020.
These reforms have been accompanied by a significant strategic repositioning for the GlobalPSC. While we have long sought to diversify income through a mix of memberships, fee-for-service project work and staging events, in 2020 we significantly enhanced our project and facilitation capabilities while better integrating value for membership. At GlobalPSC, we are excited to offer our expertise through our project work in 2021 and can't wait to share more detail on this integrated approach.
Priority Projects and Greater Value for Members
One 2020 highlight for the GlobalPSC was our work with HealthBeacon to highlight business case considerations for reusable sharps containers (RSCs) stewardship models for the home healthcare industry and to produce the Background Paper Stewardship for Sharps and Reusable Sharps Containers – Background and Issues Paper.
The Background Paper includes comparisons of RSCs against disposable sharps containers (DSCs) for home healthcare use and opportunities to integrate RSCs in product stewardship and Extended Producer Responsibility (EPR) approaches. For both reports, the  GlobalPSC updated our 2016 report for the US healthcare industry on product stewardship and EPR programs for sharps. The Background Paper will be made available first for GlobalPSC members, while we'll make the business case considerations available broadly.
Marion Briggs, HealthBeacon's Sustainability Project Manager, presented on injection management and sustainability considerations in managing sharps at the GlobalPSC's recent Annual General Meeting. Marion's presentation is available here.
We hosted HealthBeacon CEO Jim Joyce as a featured speaker at our International Stewardship Forum in Paris July 2019 as part of our discussions around stewardship extending beyond traditional material recycling to encompass human health, reuse and circular economy. Jim credits the Paris Forum with giving him a deeper understanding of stewardship and EPR, inspiring Jim to build upon HealthBeacon's reuse model and ultimately leading to the development of the Green Labs approach being rolled out in Europe.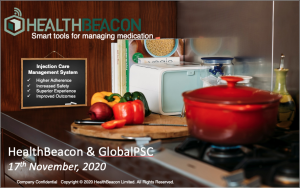 In 2020, the GlobalPSC also partnered with the Australasian Circular Textile Association (ACTA) on a successful proposal to develop Circular Threads, incorporating stakeholder engagement, business case development and scheme design for an accredited voluntary stewardship program for the collection, reuse and recycling of uniforms and workwear in Australia. Development of the Circular Threads program is supported by the Commonwealth Government's National Product Stewardship Investment Fund and more broadly by state and territory waste policy, highlighting textiles as a material of concern and calling for greater intervention.
Efforts to address textiles will become increasingly significant for the GlobalPSC over time. The Ellen Macarthur Foundation estimates that more than USD 500 billion of value is lost every year due to clothing underutilisation and the lack of recycling, and that total greenhouse gas emissions (1.2 billion tonnes annually) from textiles production are more than those of all international flights and maritime shipping combined.
Forums and Collaboration
Our successful International Stewardship Forum series will continue in 2021 with new formats, topics and expert knowledge. Collaboration and information exchange will continue to be high priorities.
We strengthened our role as an advisor to governments, particularly the Australian Government, in 2020. The Government had supported the GlobalPSC's inaugural International Stewardship Forum (outcomes here) in 2018 to provide recommendations and assist the Government's review of the Product Stewardship Act. The Hon Trevor Evans MP, Assistant Minister for Waste Reduction and Environmental Management (pictured below), briefed the GlobalPSC in advance of seeking GlobalPSC feedback on the Exposure Draft Legislative Package prior to introduction of the Recycling and Waste Reduction Bill 2020 into Parliament in August. The Bill brings a range of reforms to the Product Stewardship Act 2011 in addition to implementing the export ban on waste plastic, paper, glass and tyres. The Senate also invited the GlobalPSC to comment on the Bill. The GlobalPSC's submission on the Bill has been made available to GlobalPSC members in our Members Area. The resulting legislation was granted Royal Assent in mid-December. 
To all our members we thank you for your support in 2020, wishing you happy and safe holidays, and we look forward to working with you in 2021.
Share